Mega Rozgar Mela- Lucknow
On an invitation from NSDC—National Skill Development Corporation, MSME–WOW Factors took part in "Mega Rozgar Mela" in Lucknow between 26th to 28th Oct, 2018 where more than 20,000 job seekers, came for meeting over 80 Companies that visited the Mela looking for good employees.
The "Mega Rozgar Mela" was inaugurated by Honorable Home minister, Government of India Mr. Rajnath Singh ji by lighting the traditional lamp amid chanting of "Saraswati Vandana in the presence of high ranking officers from NSD, luminaries from political arena and high ranking officers of Indian bureaucracy besides an ocean of job-seekers.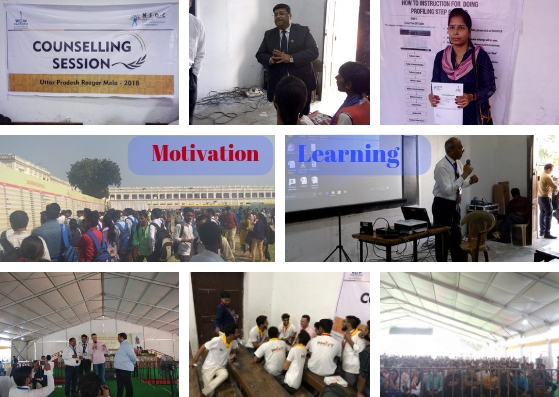 Activities conducted by WOW Factors:-
WOW Factors Conducted WOW Brain profiling test on the jobseekers to identify their Genetic Preferences first and then recommend them to go to face their job interviews according to their genetic preferences, core strengths and likingness as this ensured that the candidates are able to get the jobs where they are good at and the employers get what they are looking for.
The candidates thronged to the elaborate counselling sessions for knowing their embedded "choices and preferences" which helped them greatly and many of them were able to bag jobs.
Several of the companies who came for requirement were equally happy because the Brain Profiling and scientific counselling we did was of immense use to them.
The Rozgar Mela was widely covered by Doordarshan as well as private digital/TV Media channels and print media.