What will happen if I ditch someone according to the law of karma?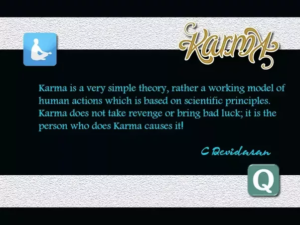 Life means "action" and that which acts invariably "cause an effect" or effects; good or bad, right or wrong, superior or inferior, appropriate or inappropriate. Karma can be translated as "Actions" which we do in our day to day life.
"Every action has an equal and opposite reaction," said Sir Isaac Newton; meaning that there is a pair of forces acting on the two interacting objects. Karma can be equated to it. If you drive a car carelessly, how can you be sure of an accident-free ride? Similarly if you do a bad action, how can you be sure of a good result?
Is 'ditching' a good act? When you answer it, you would know what you can expect as the result of your action. Karma is a very simple theory, rather a working model of human actions which is based on scientific principles. Karma does not take revenge or bring bad luck; it is the person who does Karma causes it!!!
Karma however does not simply restrict its 'impact' only to physical actions because actions are the result of our thoughts that originate in our mind and it is called "intent" of a person. If intent is bad, there is a tussle inside our mind on ethical and moral aspects which can become the cause of tension, ill health even if your actions may or may not have brought bad visible physical results.
There is an interesting story in Mahabharata which talks how "Aadi" and "Vyadi" – the constant mental trauma and resultant ill health—were designated as the 'servants' of Death by Lord Brahma who fathered Death as she said she would not like to be death and kill people. So bad Karma could go a step beyond mental trauma and ill-health, to even death!
Do you know that the most sought after accomplishment in life is "Happiness" everywhere in this world? Can we experience happiness in life if our actions are bad, irresponsible, immoral and undesirable even if such actions might have brought lots of material accomplishments? Let me share with you what I read in December 1982 edition of the Readers Digest. It is titled:
"Anyway"
People are unreasonable, illogical and self-centred,
Love them any way
If you do good, people would accuse you of selfish ulterior motives,
Do good anyway.
If you are successful, you will win false friends and true enemies,
Succeed anyway.
Honesty and frankness make you vulnerable,
Be honest and frank anyway.
The good you do today will be forgotten tomorrow,
Do good anyway.
The biggest people with the biggest ides can be shot down by the smallest people with the smallest minds,
Think big anyway.
People favour underdogs but follow only top dogs,
Fight for some underdogs anyways.
What you spent years building may be destroyed overnight,
Build anyway.
Give the world the best you have and you'll get kicked in the teeth,
Give the world the best you've got anyway.