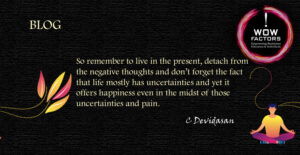 A man was on his way to his village to meet his wife after a long time of separation. On the way there was dense forest. As the man reached near to his village, he remembered a short cut through the forest and decides to take it so that he could reach his beloved faster.
Inside the jungle lived a very hungry lion that had not eaten several days. The frightened, the man began running for his life as he heard the sudden roar of the hungry lion. The lion began chasing him and the man knew that he has to do something urgently to save his life.
Suddenly he saw a dilapidated well covered by a canopy of wild vegetation and huge creepers hanging from above into the well and jumps into it to save his life. The lion climbs on the well wall and sits on it.
As he fell, the man desperately caught hold of the hanging creeper to protect his own self from the deep fall. When he looked down, he saw that the bottom of the well was the nestling ground for cobras! Not knowing what to do, he looked upwards hanging between the lion and the hissing snakes and felt few drops of some cold sticky substance falling onto its lips and the taste told him that it was honey falling from the bee hives above!
This is a lesser known story from the great Indian Epic Mahabharata, conveys that life per se, is filled with mostly full of uncertainties, pain and sorrows. But then, happiness does come into our lives like the drops of honey that fell on to the lips of the man in the story and if we don't capture them to enjoy those moments, we will be inundated only in the pain and miseries it offer.
Another reason why we don't experience happiness is because we postpone happiness when it comes. "I'll be happy if I get a first class in my 10th std," says a student. When he gets first class, he alters his statement, "When I get 1st rank in my graduation, I will be happy," and when he achieves it, he further fixes things like, when I get a job in this company…..when I marry that beautiful girl….I'll be happy! This makes him unhappy continuously. The one who postpone the happiness is a fool!
"What is nourished grows," says Vedas. If hatred is nourished, it grows. If vengeance is nourished, it grows…when an infant is nourished, it grows healthy. We often nourish negative emotions carrying them from our work place or from elsewhere constantly nourishing them. Vedas propagate the concept of "detachment" and it actually means detaching from the onslaught of negative emotions and not running away from the life which is escapism!
Thought attacks are dangerous than heart attacks! So remember to live in the present, detach from the negative thoughts and don't forget the fact that life mostly has uncertainties and yet it offers happiness even in the midst of those uncertainties and pain. You will experience happiness.
Affectionately.
– Prof. C Devidasan, Vice-President