WOW Factors conducted counselling sessions for job seekers in Mumbai NSDC's Rozgar Mela, Ghatkopar, Mumbai, November 24th and 25th, 2018
A two-day Skill India 'Rozgar Mela', dubbed as the largest job fair in Mumbai was organized by NSDC on 24th and 25th of November, 2018 in Ramniranjan Jhunjhunwala College of Arts, Science & Commerce at Ghatkopar, Mumbai.  Around 1000 candidates who attended the Mela were selected by recruiters for various jobs.
The Mela was inaugurated by Dr. Kirit Somaiya, Member of Parliament from Mumbai saying that, "The focus of youths should be on honing skills to get jobs of their choice. The government is putting in lot of efforts for empowering them with a variety of trainings so that they are able to successful.
WOW Factors, on an invitation from NSDC, participated in the Mela to give effective Counseling to a huge number of candidates who came for looking for jobs at the venue. We also gave personality enhancement tips and conducted sessions on Interview Skills before they were sent for the interviews that were scheduled at the venue where over eight Companies had arrived.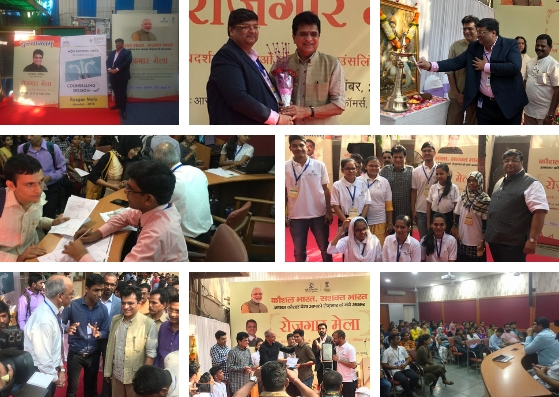 Dr. Shankar Goenka, MD WOW Factors a special invitee for the event, welcoming Dr. Kirit Somaiya, MP from Mumbai at the inauguration ceremony of the Mela.
Besides Dr. Shankar Goenka, Prof. C Devidasan, Prof. Ajay Sharma and a team of experts on Counselling and WOW Genetic Preference Discovery Tests participated in the event.
Prof. Ajay Sharma of WOW Factors India Pvt. Limited and the team WOW Factors guiding the candidates at Mumbai Rozgar Mela.
Prof. Devidasan Chathanadath (Vice President) of WOW Factors India Pvt. Limited, delivering job offer letters to the selected candidates for their bright future.
Our volunteers with Dr. Shankar Goenka and
Dr. Kirit Somaiya
WOW Factors Team at Rozgar Mela
| | |
| --- | --- |
| Sno | Team Members |
| 1 | Dr. Shankar Goenka |
| 2 | Mr. Sandeep Shah |
| 3 | Mr. C.Devidashan |
| 4 | Mr. Ajay Sharma |
| 5 | Mr. Parthh Goenka |
| 6 | Mr. Ujjawal Goenka |
| 7 | Mr. Mahendra Singh |